Social media is an extremely effective tool for increasing visibility and promoting any business venture that requires widespread exposure. In fact, social media has emerged as a new marketplace for businesses to meet, reach, and engage with their existing and potential customers.
Undoubtedly, Twitter is one of the most powerful social platforms to give your business the right exposure and sales. Presently, the Bird App has approximately 450 MILLION users monthly, so it has grown faster than any other social network, and since it got acquired by Elon Musk, the world's richest billionaire, it recorded an all-time high of 1.6 MILLION daily users.
https://twitter.com/elonmusk/status/1594865247323660290?s=20&t=aQy7QjidpDQ8SYs1kPBwLw
Considering the millions of people your business could reach with a single tweet, Twitter is one of the most effective marketing tools to grow your business and connect with your customers. As a result, many people use Twitter, including Key Opinion Leaders, small and medium-sized businesses, cryptocurrency projects, and Web2 and Web3 projects.
However, more than simply having your business on Twitter is required; you must also know how to use it to generate genuine engagement and traffic to your website. Unlike using Twitter for personal purposes, there are some tried-and-true tips you should follow to increase engagement on your business account and the growth of your brand or project.
While growing your social media presence and followers takes time, below are some tips for increasing traffic, ensuring real engagements, and experiencing overall brand awareness.
Tips for Increasing Twitter Traffic
Create Valuable Content
Conversations are sparked by content, and real engagements come from conversations. However, you should avoid trying to sell to your audience; instead, use content to pique their interest in your product or service. Creating valuable content around your business to educate your audience would give you more exposure.
Your content should be relatable, and you must understand the style of creation that gets the most attention. Furthermore, always engage your audience on the timeline, respond to their comments, and provide answers to any pressing questions, making your content more conversational.
The more interaction (Likes, Retweets, and Comments) your content receives, the more impact it makes and the more exposure you get from Twitter's algorithm, which increases traffic to your website.
Know Your Peak Hours
It is not enough to create content; you must also share it with your target audience at the right time. Your valuable content will be ineffective if no one sees it. As a result, it's important to know your peak hours and the best times to tweet throughout the day and week.
Although there is no universal or one-size-fits-all period for posting your business. There are, however, some high-traffic days when you can get more engagement on your posts. Tuesdays through Thursdays, for example, are high-traffic days to reach your target audience. According to Hubspot, the best time to post your business is between 1 pm and 3 pm, when people are on their way home and have focused on checking their Twitter feeds and engaging with any valuable content they find.
Creatively Use Hashtags
Using hashtags is the best way to connect with a larger audience that is unfamiliar with your brand. You can draw attention to your content by using general, trending, or custom hashtags that explain how your product or service meets the needs of your target audience.
Using trending hashtags increases engagement with your content, especially if it is related to your niche in any way. Don't be hesitant to create trend-related content to get your profile in front of the right audience and drive more traffic to your business. You can also use custom hashtags to distribute freebies by asking your audience to include them in their tweets, replies, or quotes, increasing your content's reach and traffic to your business.
Reward Your Audience Through Contests And Giveaways
Running a Twitter contest is the most effective way to increase engagement and traffic to your business. The contest includes freebies that reward your audience for completing simple tasks to help your business grow and attract new followers. Twitter contests and giveaways are entertaining ways to learn more about your audience and how to better serve them.
Running contests and giveaways can help you achieve a variety of objectives. For example, you can raise brand awareness and grow your follower base by giving your audience a simple task such as retweeting and tagging a friend in your tweet. You can also use contests and giveaways to promote a new product or increase website signups.
How To Use Twitter Contests and Giveaway To Increase Traffic
As mentioned earlier, running a contest and giveaway for your business has numerous benefits. However, managing and tracking your contest objective might be difficult when you have to manually pick winners and share rewards. For example, you can create a Twitter contest for your business in different ways. You can ask participants to;
Leave a comment
Follow and Retweet
Tag a number of friends
Listen on Twitter space
Tweet with a specific content
However, following up on whether every participant does the task correctly might be time-consuming, complicated, and stressful. Also, selecting winners for these contests and giveaways can be difficult if you have to manually track and record each participant and pick using a random giveaway picker.
Imagine having to draw 5-10 winners from a contest of over 1000 participants. On the one hand, you must sort their entry, verify that they completed the contest tasks correctly, and then categorize them following the contest guidelines. On the other hand, to decide the fate of the participants, you must use a random prize selector or a giveaway picker. However, the drawback of this strategy is that manually entering and keeping track of participants is prone to human error, and most giveaway prize pickers ignore older entries and only draw their winners from the most recent entries, which reduces the likelihood of running fair contests and giving equal opportunity to all participants.
But, interestingly, there's a better option for running your contests and giveaway with the Cwallet Giveaway Tool without having to bother about manually carrying out any activities.
Whether it is tweet interaction or twitter space, cwallet giveaway includes all the tasks you may need to achieve your traffic goals
What Can You Do With The Cwallet Giveaway Tool
The goal of creating a contest is to reward your audience, attract new prospects to your business, and get exposure to a wider audience. However, achieving this would be challenging if you have to manually run the contests and giveaways.
The Cwallet Giveaway Tool is designed to help your business, community, or project in increasing traffic and acquire new prospects without doing the manual selection and tracking process. You can use the Cwallet Giveaway Tool to create a social media task for your audience and reward those who complete it successfully.
Easily Set Up Tasks and Multiple Tasks To Choose From
There are several tasks you can set up for participants to complete to get rewarded in the contest and giveaway. You can set up Twitter tasks with specific instructions, such as;
Follow a user
Interact with a tweet: like, reply, retweet, quote tweet and @friends
Listen on Twitter space
Also, you can specify how participants will login and participate in the task before you create it. Participants can access your giveaway page via email, Twitter, Telegram, Discord, or Reddit, depending on your preferences.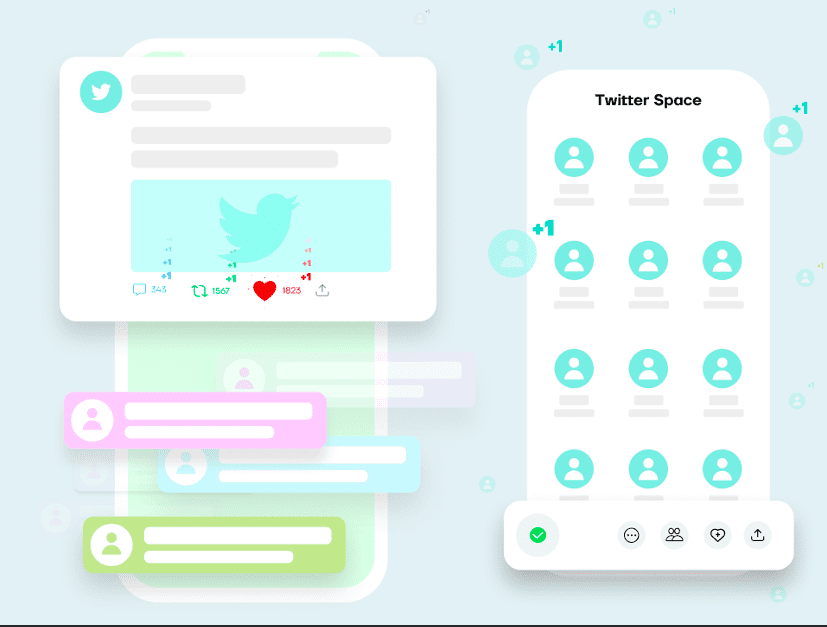 Cwallet Giveaway Tool: Boost Twitter Traffic by Setting Up Twitter Tasks
You should not miss the draw methods! You are able to specify how you want to select winners. The Cwallet Giveaway Tool has three draw methods; Timed draw, Instant draw, Goal-triggered draw.
Create interesting activities according to your needs, whether it's a regular lottery draw, a lottery after reaching a goal, or setting up odds for users to draw themselves! Get users pumped up!
For example, you can create a goal-triggered draw giveaway that picks up winners when your account reaches 1000000 followers.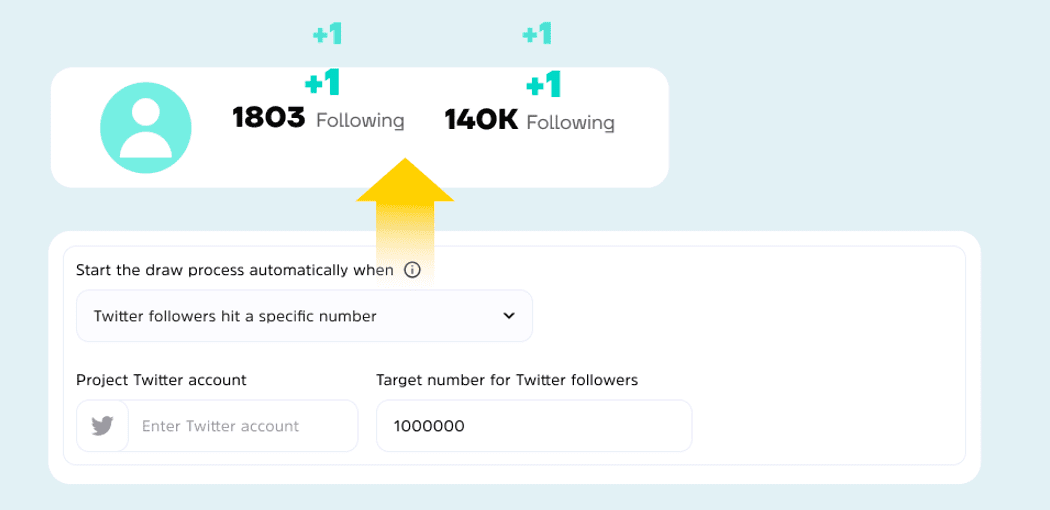 Cwallet Giveaway Tool: Goal-Triggered Draw
There's more.
You can select the method you want your participants to interact with your contest tweet. You can choose from Like, Retweet, Reply, or Quote. You can also select multiple choice on how participants interact with the contest.
Furthermore, the giveaway tool includes a task verification system that is provably fair to ensure that no one cheats. You can attract genuine and quality participants to your contests and giveaways by limiting the number of participants through the participant filter option on the giveaway tool. That is, setting a threshold and allowing participants with a certain number of followers and an account opened for a certain number of days to participate.

Cwallet Giveaway Tool: Twitter Participant Filter
For example, you can specify only participants' accounts with a minimum of 50, 100, or 200 followers are eligible, and the account must be at least 3 months old. As a result, this would prevent new or bot accounts from participating in the contests and giveaways.
All entries are automatically verified, and those not meeting the minimum requirements are disqualified. All you have to do is set a few parameters, and the system will handle the rest, saving you time and stress. click here for a detailed explanation of how the Giveaway Tool works.
Alternatively,
You can directly reward loyal followers on Twitter by sending them tips and airdrops.
How does it work?
Using the Cwallet bot on Twitter, you can send Tips directly to your followers with simple commands. Tips can be sent by directly tagging a user and specifying the amount you wish to reward, or by replying to their tweet.
Also, if you wish to reward multiple users directly from a tweet, you can send airdrops to, say the first 100 users who retweet your business tweet, or quote your tweet with a custom hashtag to promote your business.
Using the Cwallet Tips and Airdrop on twitter is straightforward. You only need to issue one command to start your airdrop event!
For example, you can decide to share 1000 USDT to the first 100 users that retweet your business tweet. So, with this simple command format; Command format: @cctip_com airdrop 1000 USDT 100, the first 100 users who retweet would receive the reward.
The Cwallet Twitter bot makes rewarding your followers easy, which is an effective way to grow your business. Click here to learn more about how to send tips and airdrops on twitter.
Final Takeaway
Remember, contests and giveaways are the most effective approach to generate engagements and increase traffic to your business. And, with the Cwallet Giveaway Tool, you don't have to do anything manually as the Cwallet Giveaway tool utilizes an algorithm that uses technology to make online randomization more efficient and transparent while maintaining the highest level of fairness and openness.
Obviously, you want more traffic to your business content and to reach a larger audience. As clearly stated, giveaways are the most effective method to drive engagement and traffic to your business, community page, etc., while rewarding existing and new participants. So, if you're looking for a growth tool to help your business stand out with happy users, the Cwallet Giveaway is your best bet for organizing exciting contests, sweepstakes, and fair competitions!
Combining the Cwallet Giveaway Tool and the Twitter bot would put you ahead of your competitors, increasing the number of people who engage with your content and help your business grow.
Create a giveaway with the Cwallet Giveaway Tool, and easily set up social media tasks with your rules and regulations to help your business grow.